New facility offers low-cost child care benefit to team members
Company honored with Best Place for Working Parents Innovator award
HUMBOLDT, Tenn., July 18, 2023 (GLOBE NEWSWIRE) — Tyson Foods officially opened a new employer-sponsored child care facility near the company's Humboldt, Tennessee, poultry processing complex. The Tyson Learning Center (TLC) offers greater access to affordable child care for Tyson Foods team members.
The nearly $5 million investment will support more than 100 children, 5 years of age and younger, and employ a staff of 20. It will be operated and managed by KinderCare. Tyson Foods will subsidize tuition to help lower the cost for its team members.
"I'm proud of our company's approach to make high-quality child care accessible and affordable for our team members. We recognize child care services can be a barrier to enter the workforce, which is why have worked on this solution to provide child care options that support our team members," said Johanna Söderström, executive vice president and chief people officer at Tyson Foods.
According to data compiled by Child Care Aware, the average price of child care in 2022 was nearly $11,000. The U.S. Department of Health and Human Services recommends that child care cost no more than 7% of a parent's annual income. However, research shows many couples spend 10% of their median income, and a single parent can spend as much as 33%, on child care. Through the TLC facility, parents receive a child care cost benefit that can be used to reduce other family expenses.
By partnering with KinderCare, a company with decades of experience building early strong foundations for children, Tyson Foods is offering team members top-quality child care close to where they work.
"We know from [KinderCare's] Parent Confidence Report that child care benefits are second to health insurance in retaining employees, a benefit all the more important in rural areas like Humboldt where there are more families needing care than there are child care options," said Dan Figurski, president, KinderCare for Employers and Champions. "We're proud to partner with Tyson in supporting their working families in a center custom-designed to meet their specific needs. We're looking forward to welcoming children to the Tyson Learning Center later this month."
Tyson Foods was honored with the Best Place for Working Parents Innovator award in a grand opening program attended by Tyson Foods and KinderCare executives and local and state leaders. Parents who work at the Tyson Foods' Humboldt, Tennessee, plant, whose children will attend the learning center, helped cut the ribbon and officially open the facility.
"As we considered the recipient of our first-ever Best Place for Working Parents Innovator award, our aim was to recognize a company that truly epitomized what it means to be best in class. Tyson Foods emerged as a trailblazer in support of working parents," said Sadie Funk, director of the Best Place for Working Parents.
During the grand opening program held outside TLC, Jude White, assistant Commissioner for care and community services with the Tennessee Department of Human Services, recognized the need for more employers to make child care more accessible. She announced the facility will award a $150,000 Establishment Grant providing financial support for furniture, equipment and curriculum costs associated with opening a new child care agency. Team members can also apply with the state for additional subsidies to further lower the cost of child care.
About Tyson Foods, Inc. 

Tyson Foods, Inc. (NYSE: TSN) is one of the world's largest food companies and a recognized leader in protein. Founded in 1935 by John W. Tyson and grown under four generations of family leadership, the Company has a broad portfolio of products and brands like Tyson®, Jimmy Dean®, Hillshire Farm®, Ball Park®, Wright®, Aidells®, ibp® and State Fair®. Headquartered in Springdale, Arkansas, the Company had approximately 142,000 team members on October 1, 2022. Through its Core Values, Tyson Foods strives to operate with integrity, create value for its shareholders, customers, communities and team members and serve as a steward of the animals, land and environment entrusted to it. Visit www.tysonfoods.com.
Media Contact: Melissa Williams |
[email protected]
| 479-652-0503
Category: IR
Source: Tyson Foods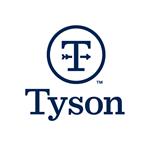 Source: Tyson Foods, Inc.